De Bergen - Sporten in de mooiste bergstreken van Europa

De bergen fascineren. Ze oefenen een unieke aantrekkingskracht uit. Is het de majestueuze grootsheid? Zijn het de onwaarschijnlijk knappe panorama's? De kleuren van een ondergaande zon over een bergtop? Het ruige, onverschillige, die brutale soms ongenadige kracht? Reeds eeuwenlang voelen mensen de drang bergen te beklimmen. Bergen inspireren, prikkelen de verbeelding. Vaak hebben ze een symbolische betekenis, ze leren ons dat om een doel te bereiken vastberadenheid en doorzettingsvermogen nodig zijn. En of je nu vierduizenders aan je palmares wilt toevoegen, houdt van wandelen of fietsen in een prachtige omgeving of eerder wilt skiën doorheen ongerepte poedersneeuw, in de bergen kan het allemaal.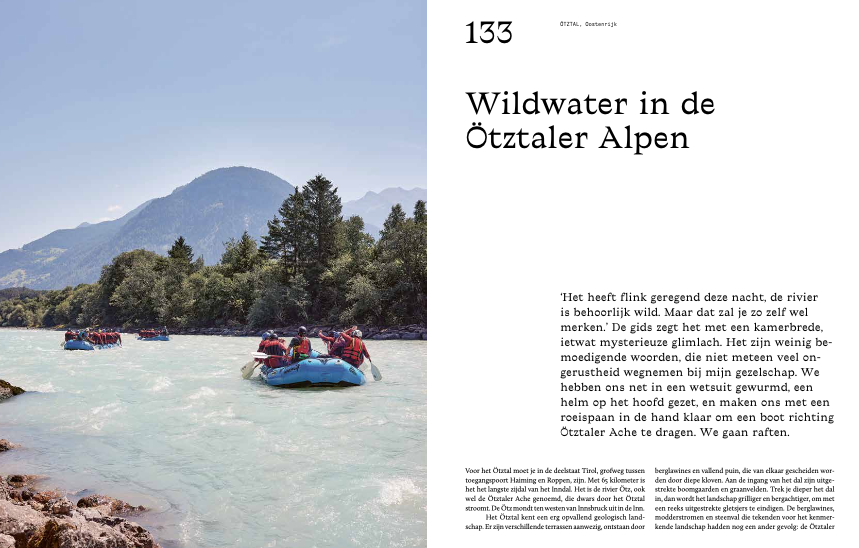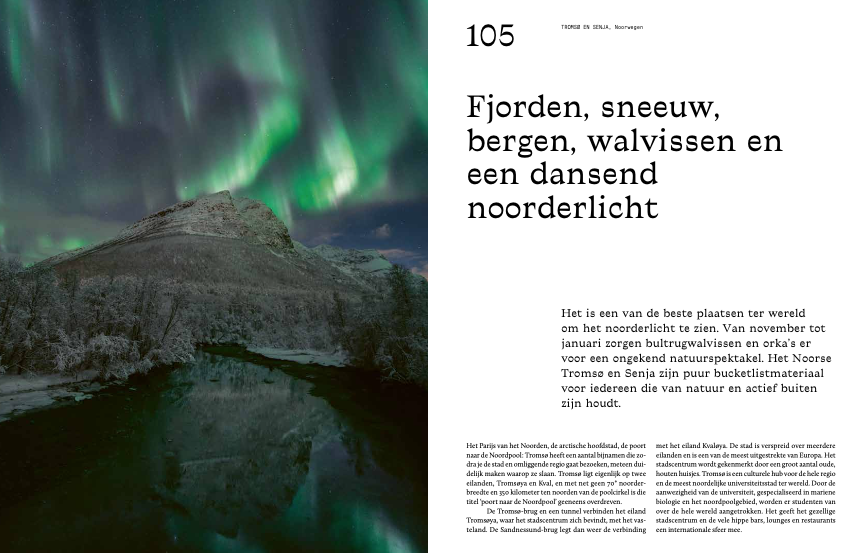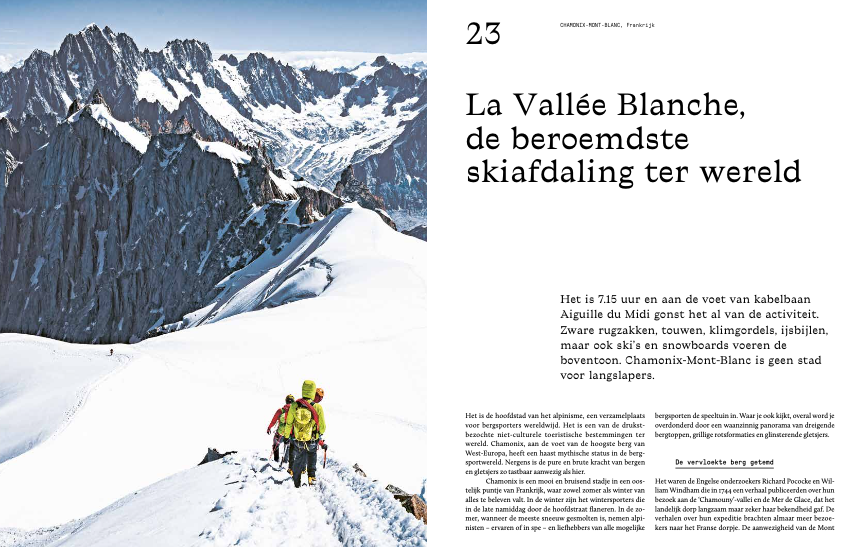 Bij een bergvakantie denk je meteen aan wandelen,skiën, langlaufen, klimmen etc., maar er zijn nog tal van andere disciplines te ontdekken die je kunt beoefenen met zicht op prachtige bergcoulissen!
Jurgen Groenwals, hoofdredacteur van 100%Snow en 100%Trails, leidt je door het rijke scala aan bergsporten en laat je intussen de achttien mooiste – bekende en minder bekende – bergdorpen en -dalen in Europa ontdekken.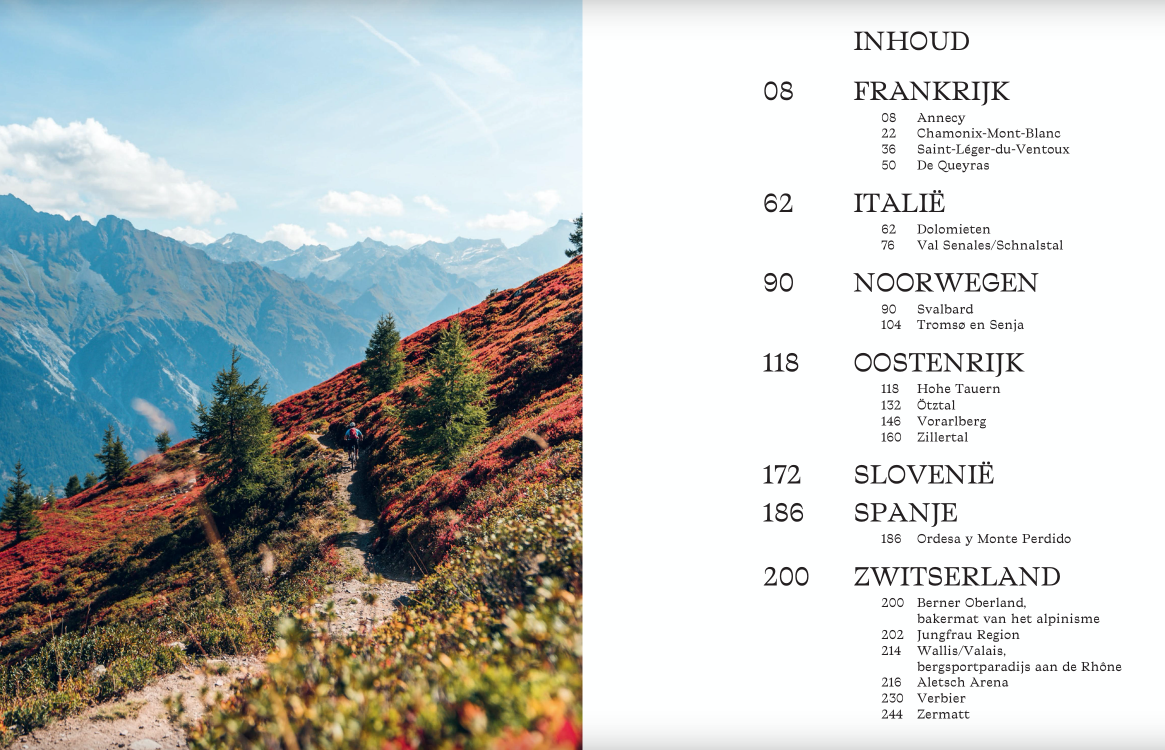 Ik duik in de historie van dorp en berg en geef tips en tricks voor jouw bezoek mee. Aan elke berg wordt een bergsport gekoppeld. Ik bengel onder een parapente boven het meer van Annecy, kick op een wel heel erg lange afdaling in het Mont Blanc-massief en volg enthousiaste klimmers aan de voet van de reus van de Provence. Op mijn splitboard ontdek ik de Queyras, het noorden van Noorwegen en Svalbard en trek ik de hele Vorarlberg door. De mountainbike voert me helemaal door Slovenië, meer mountainbiken doe ik in Verbier, waar ik samen met freeridelegende Xavier de le Rue ook nog even het snowboard aanbind, en tijdens de Stoneman Glaciara in Wallis/Valais. Via ferrata in de Höhe Tauern, op zoek naar Ötzi in Val Senales, rafting in de Ötztaler Alpen en canyoning in de Spaanse Pyreneeën. In het Zillertal sleur ik de hele familie de berg op voor een sessie trailrunning. Een meer gevorderde sessie trailrunning volgt dan aan de voet van de iconische Matterhorn.
'De Bergen' is een prachtig boek voor alle diehard-bergsportfanaten, voor de rustige bergwandelaar, voor wie graag een nieuwe uitdaging aangaat, kortom, voor iedereen die zijn/haar hart verpand heeft aan de bergen. De verhalen worden geïllustreerd door eigen beeldmateriaal en foto's van de beste outdoorsport-fotografen.
De Bergen wordt uitgegeven door Lannoo, is een klepper van 256 pagina's dik, 285×225 mm groot met harde cover. Het boek is er zowel in Nederlands als in Engels. Kostprijs: 39,99 euro.