Het Amerikaanse Hydro Flask is voornamelijk bekend van zijn hoogkwalitatieve drinkflessen en hun onverdroten aandacht voor de natuur en natuurbehoud. Langzaam maar zeker breiden zij hun gamma uit. Een buitenkeuken, rugzak en nu ook dit heuptasje zetten Hydro Flask verder op de outdoorsportmarkt.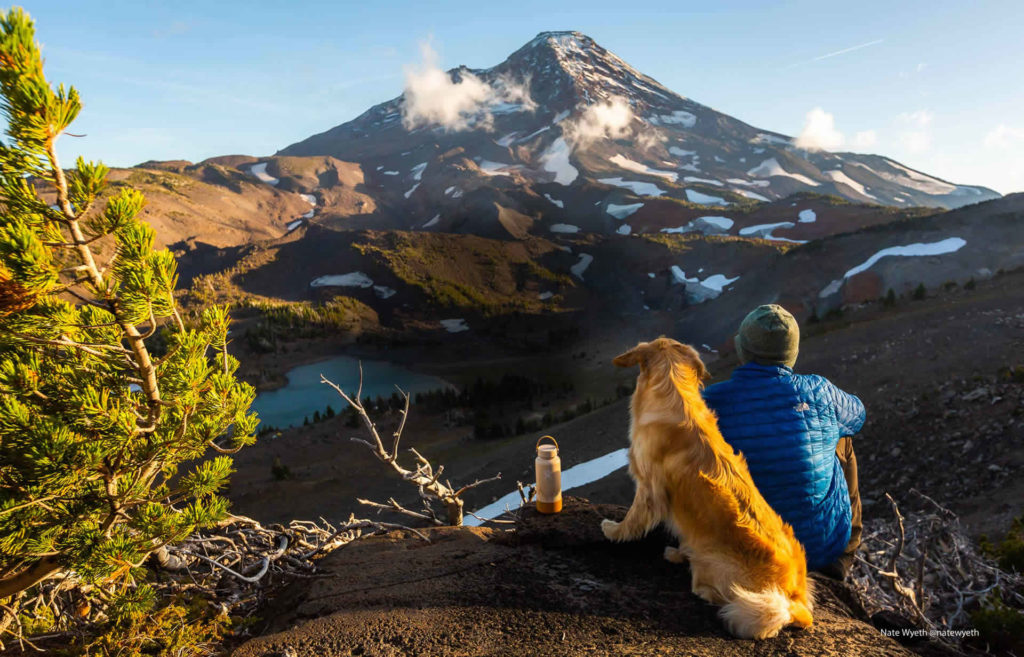 Gevestigd in Bend, Oregon heeft Hydro Flask bergen, rivieren en meren letterlijk in hun achtertuin. Dat natuur en outdoor dan ook in het DNA van het merk zit, is weinig verwonderlijk. De afgelopen jaren werd – met dank aan een toenemende aandacht voor natuurbehoud – Hydro Flask steeds populairder. Hun voornaamste product – drinkflessen in alle maten en vaak in erg hippe kleuren – zet mee de kwaliteitsstandaard. De roestvrijstalen drinkflessen werken met een dubbele wand waardoor je drank urenlang heerlijk koel of warm blijft.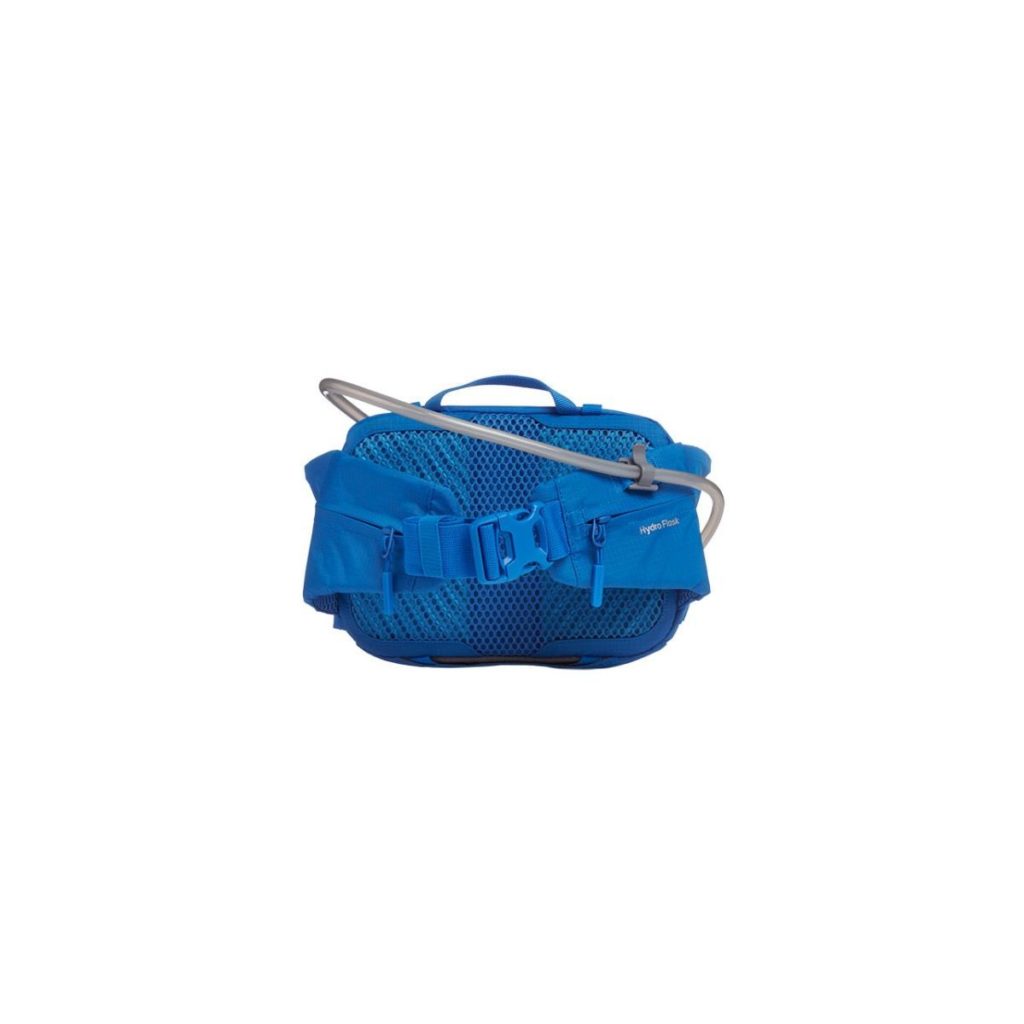 Het heuptasje, voornamelijk bestemd voor mountainbikegebruik, wordt eveneens steeds populairder. Hedendaagse heuptasjes zijn hip en handig en wanneer je niet bijzonder veel spullen mee te nemen hebt, eveneens een uitstekend alternatief voor een rugzak. Met een volume van vijf liter voldoet het Hydro Flask heuptasje meer dan voldoende voor datgene wat je op een dagtocht nodig kan hebben: multitool, binnenband, energierepen of ander voedsel, Co2-patroon of minipomp, een compact regenjasje, je portefeuille en smartphone… een volume van vijf liter voor een heuptasje is reeds behoorlijk veel.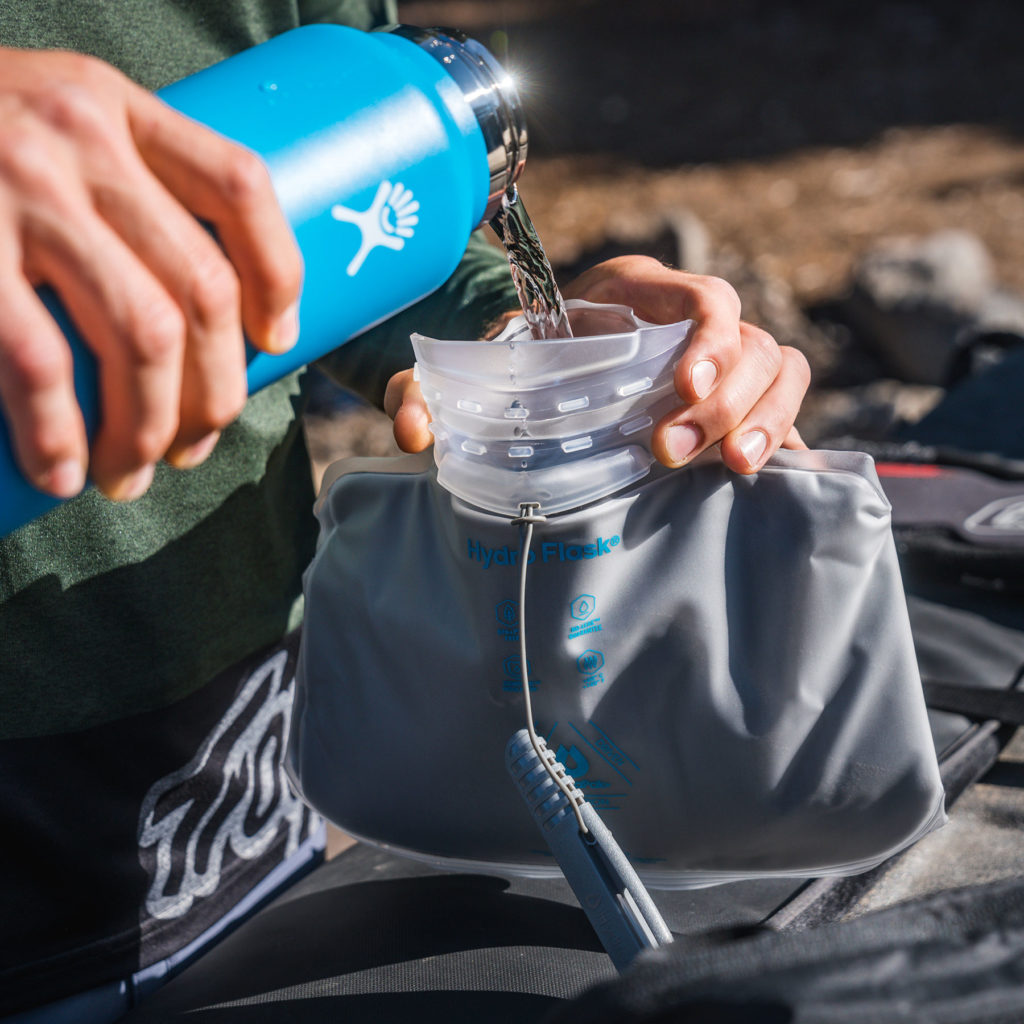 Wat de Hydro Flask Hydratrion Hip Pack helemaal compleet maakt, is de waterzak van 1,5 liter. Die zit daarbovenop in een Cold Flow™ System waarbij een geïsoleerd, neopreen reservoir met reflecterende lining ervoor moet zorgen dat je drank voor minstens drie uur gekoeld blijft. En als er iets is wat Hydro Flask echt wel goed kan, dan is het drank koel houden.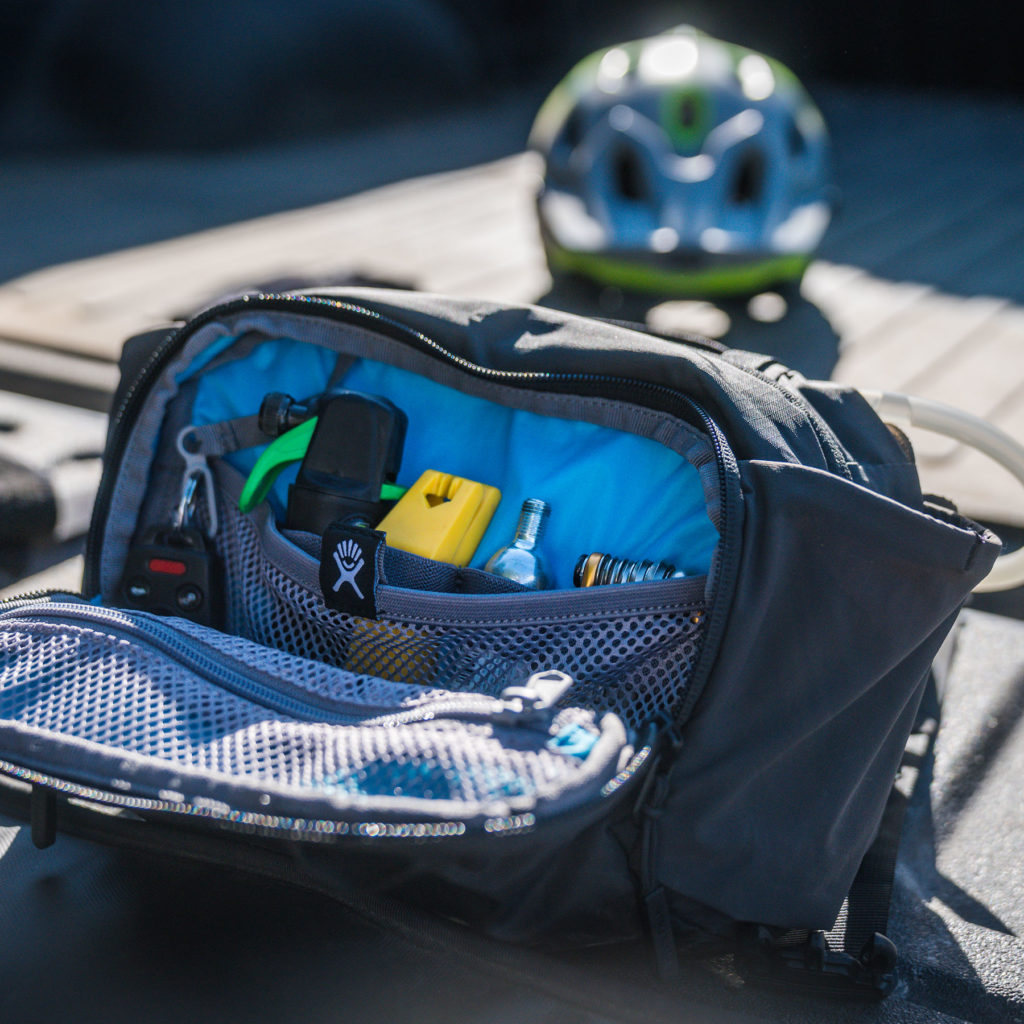 Binnenin merken we een doordachte verdeling in verschillende compartimenten. Een zakje met rits voor de portefeuille en een haakje om je sleutels aan te hangen, maken het erg compleet. Helemaal vooraan is er nog een gevoerd zakje om je smartphone in op te bergen. Op de heupen zelf zijn er twee kleinere zakjes, voorzien van een rits. Langs de zijkanten zijn er nog twee zakjes gemaakt uit een stretchstof, daar zou je eventueel nog extra drinkflessen in kunnen opbergen. Leuk is het handvat aan de bovenkant.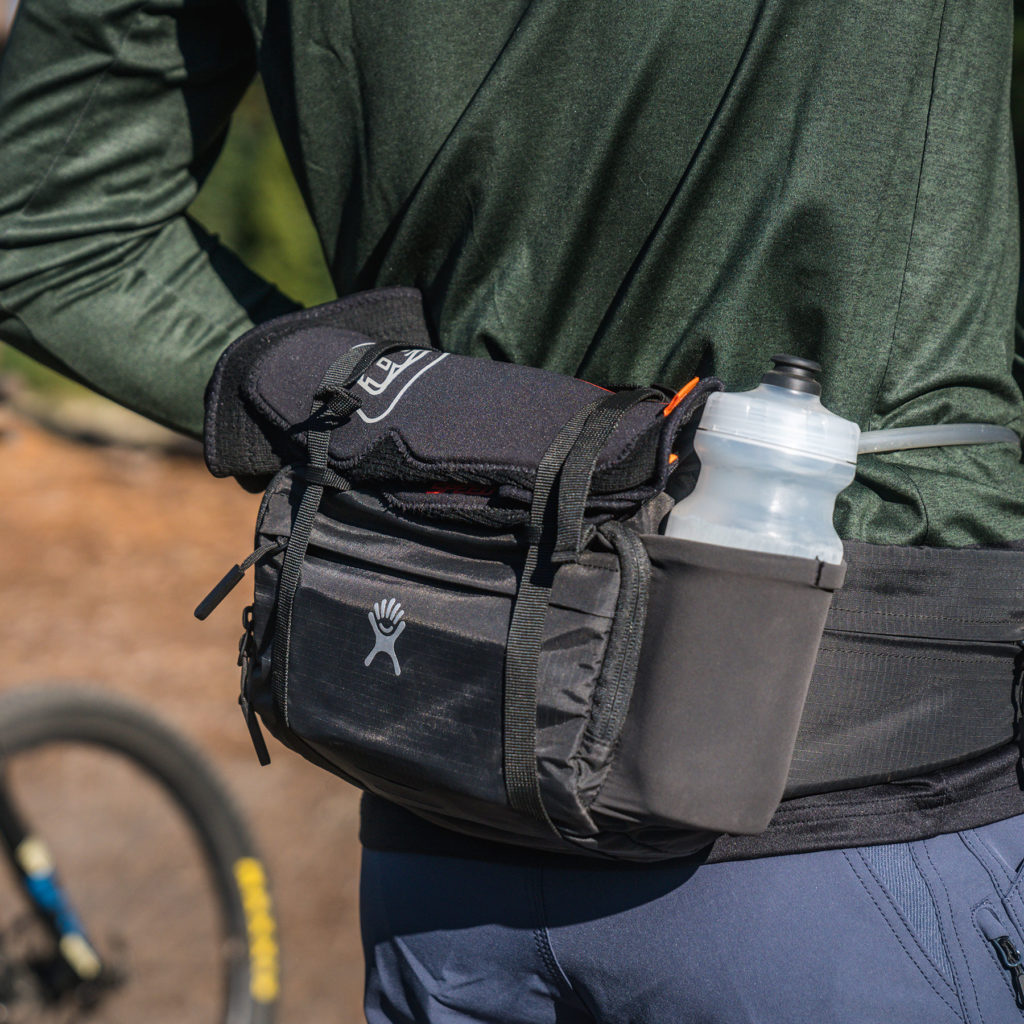 Heb je nog meer spullen – je kniebeschermers tijdens een klim, bijvoorbeeld – dan is het heuptasje voorzien van twee extra riempjes waar je nog wel een en ander tussen kwijt kan.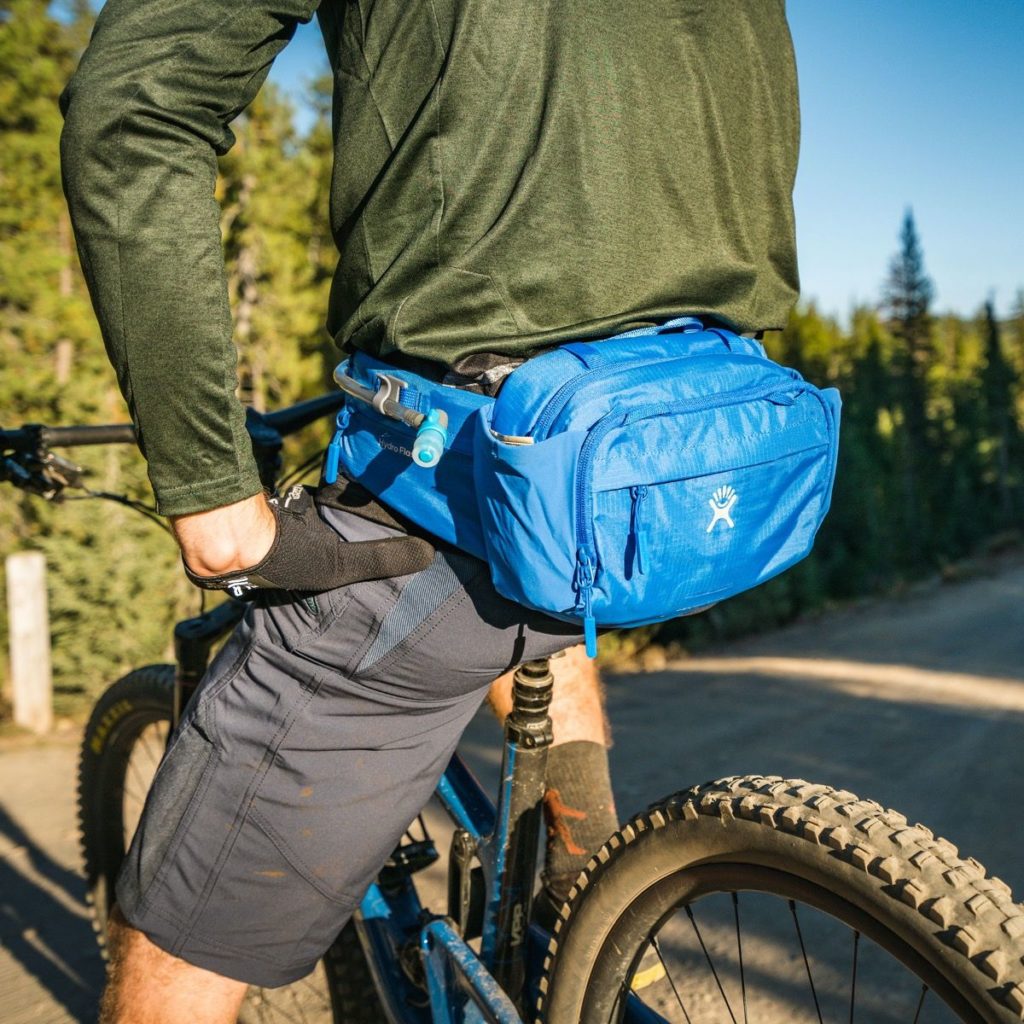 Door de dikke padding op de rug en de mesh, verwerkt in rug en draagriemen, moet het draagcomfort gegarandeerd blijven. Een heuptas draag je namelijk op de heupen en omwille van de stabiliteit, nauw aansluitend tegen de rug. Dat maakt dat ventilatie op een heuptasje toch wel van belang is. 
Tot zover de theorie. De volgende maanden gaan we daadwerkelijk op de trails aan de slag met deze Hydro Flask Hydration Hip Pack. Verwacht je in het voorjaar aan een meer uitgebreide test en onze bevindingen op vlak van duurzaamheid, comfort en gebruiksgemak.
Prijs: € 109,95
Meer info: http://www.hydroflask.com