Naast de traditionele nieuwe seizoenskleuren pakt Hydro Flask dit jaar ook uit met een speciale serie, helemaal gericht op berg- en outdoorliefhebbers, maar vooral met een nieuw gamma 'outdoor kitchen'.
Even ver als het avontuur je brengt
De speciale Horizon-serie is geïnspireerd op een bergzicht en kent vier verschillende kleuren: Vapor, Raindrop, Cloudy en Oyster. Elke kleur – in moderne kleurblokken – staat voor de verandering van de natuur volgens de seizoenen. Het panoramisch beeld dat 360° over heel de drinkbus loopt, doet denken aan een episch avontuur dat ver voorbij de horizon reikt…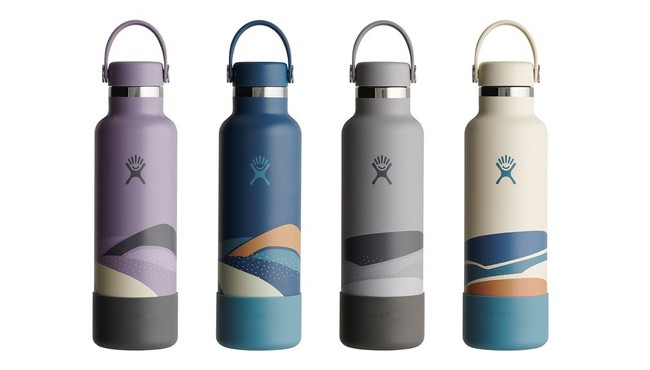 Koken in de natuur
Hydro Flask lanceert eveneens een nieuwe collectie producten en bestek, gericht op leven en koken in de buitenlucht. Op je nu op de camping staat of een picknick in een park organiseert, de collectie 'Outdoor Kitchen' heeft alles wat je nodig hebt om te genieten, eten en je voedingswaren fris te houden.
De complete collectie bestaat uit stapelbare kommen met deksels, eet- en opscheplepels, borden en een drinbkekers, perfect voor een ochtendlijke koffie of een late cocktail bij het haardvuur.
Met uitzondering van het bestek en de opscheplepels is elk Outdoor Kitchen artikel voorzien van Hydro Flask's dubbelwandige geïsoleerde TouchShield-technologie, die warm eten warm houdt, koud eten koel en je handen op kamertemperatuur. Het betekent ook dat het veilig is om te reizen met een slakom. En omdat hij van roestvrij staal is, blijft de kom gegarandeerd vrij van vlekken en geurtjes, zelfs wanneer die een weekend lang in de camper wordt achtergelaten. De beker heeft inwendige markeringen zodat hij als maatbeker kan gebruikt worden, en de achterkant van het bord is met siliconen gecoat om het lawaai van bestek te verminderen. De kommen stapelen zich op als Russische popjes.
Hydro Flask wil een levensechte eetervaring bieden, niet alleen een pure buitenervaring! Dit komt tot uiting in de kleuren die werden gekozen voor de kommen, borden en beker: neutraal berken en helder ananas, die perfect passen bij de levensstijl van hun gebruikers. Deze producten zijn ontworpen om lang mee te gaan en zien er altijd fris en nieuw uit.