De wielerwereld – aanvankelijk via de mountainbike, kort daarna gevolgd door het wielrennen – is niet langer een vreemde onbekende voor Julbo. De laatste jaren heeft Julbo echter een aantal grote stappen gezet en is er aantal erg mooie fietsbrillen op de markt verschenen. We denken daarbij ondermeer aan de Rush en de Fury, twee succesnummers die niet enkel door wielrenners maar ook door outdoorsporters allerhande worden gedragen. Laat veelzijdigheid en flexibiliteit misschien wel twee van de voornaamste kwaliteiten van het merk uit de Jura zijn.
Voor 2023 stelt Julbo twee nieuwe monturen, even licht als spectaculair, voor.
De Julbo EDGE, met een uiterlijk gelijkaardig aan de Fury en dus vooral bedoeld voor mountainbikers, doet op vlak van prestaties geen toegevingen. Dit model zit vol met hoogwaardige functies. Met zijn lichte en gestroomlijnde frame biedt de Julbo Edge een optimaal en erg breed gezichtsveld. Dankzij de exclusieve Magnefix-technologie kunnen de lenzen snel en gemakkelijk worden verwisseld wanneer de weersomstandigheden plots veranderen. De lenzen zijn geventileerd om aanslaan van de bril te voorkomen en het licht gebogen, 'wrap-around frame' houdt de bril op zijn plaats, zelfs op volle snelheid.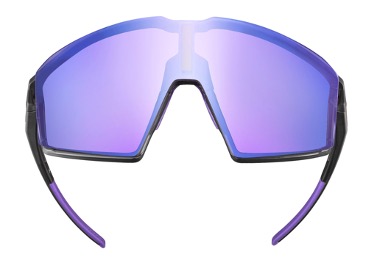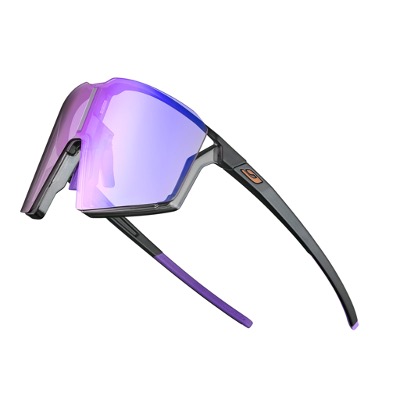 De voordelen van de Julbo EDGE: verwisselbare lens met magnetische ondersteuning, minimalistisch frame, ventilatie, anticondensbehandeling, 3D Fit Nose, flexibele pootjes met Grip Tech, compatibel met een helm.
Afhankelijk van de keuze van montuur en lenzen (Photochromic Reactiv of Spectron) is de Edge verkrijgbaar vanaf €140.
De Julbo Density heeft een lichtgewicht en minimalistisch ontwerp, anti-slip neusstuk en superieur comfort dankzij de flexibele inzetstukken van het montuur die ervoor zorgen dat de bril steeds op zijn plaats blijft zonder aan het haar te blijven haken. De bril biedt een optimaal gezichtsveld voor een ruim zicht in alle omstandigheden. Het zou fans van lange ritten op asfalt moeten plezieren.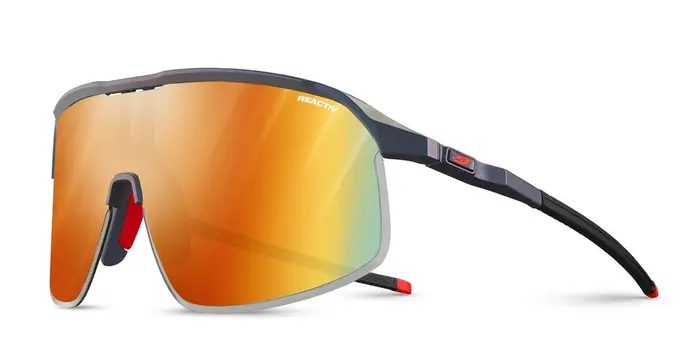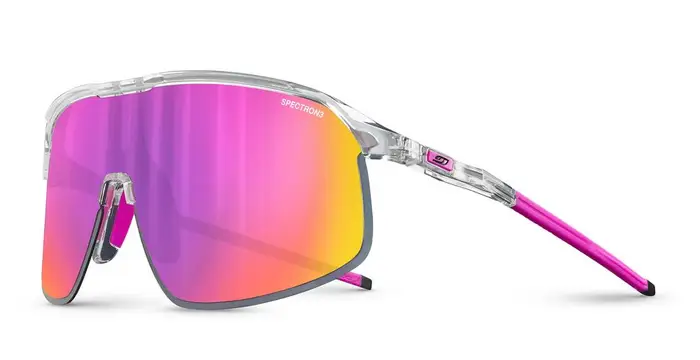 De voordelen van de Julbo DENSITY: panoramisch scherm, ventilatie, neusgrip, Custom Fit veren met Grip tech, compatibel met een helm.
Met een gewicht van slechts twintig gram zal dit nieuwe frame snel worden vergeten zodra het op de neus wordt gezet. Afhankelijk van de keuze van montuur en lenzen (Photochromic REACTIV of Spectron) is de DENSITY op de Julbo website verkrijgbaar vanaf €115.