De Fury, van het in de Jura gevestigde Julbo, werd meer dan een jaar geleden samen met bijna-tweelingzus de Rush, gelanceerd en was meteen voorbestemd zijn stempel te drukken op wielerpelotons en talrijke mountainbikers.
En, het moet gezegd, ook in vele andere disciplines wordt de bril vaak opgemerkt: hardlopen, trailrunning, skitochten, paragliding en zelfs bergbeklimmen.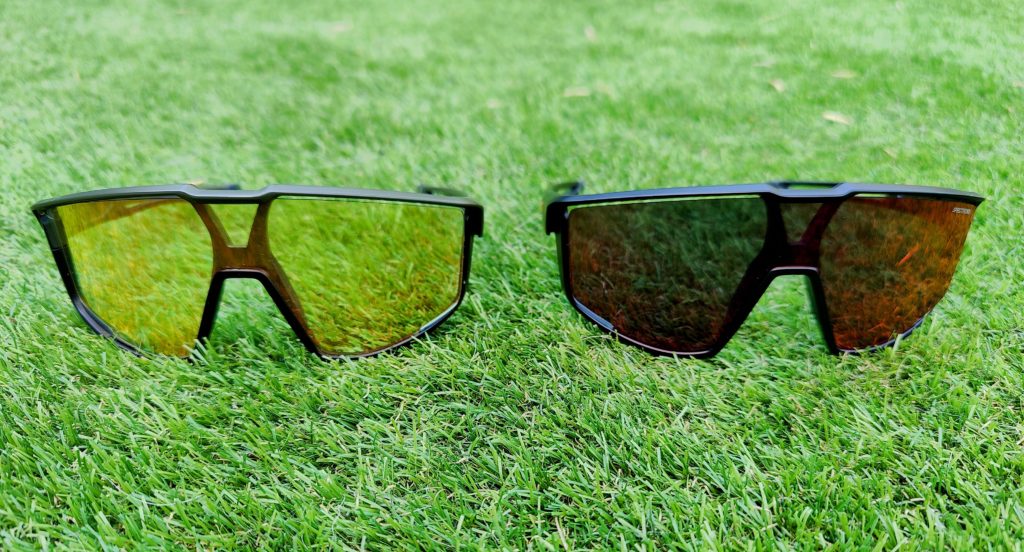 De Fury is in de eerste plaats een opvallende look met een mooi, hoekig en radicaal montuur dat is uitgerust met glazen die – afhankelijk van het model en de combinatie – in alle kleuren verkrijgbaar zijn, hetzij in fotochrome Reactiv-lenzen of Spectron3-lenzen (lenzen van polycarbonaat met een gekleurde spiegelcoating die de filtering van zichtbaar licht versterkt door een spiegeleffect op het glas). Kleurrijke figuren zoals Enak Gavaggio, alias Rancho en ambassadeurs zoals de Zwitserse Géraldine Fassnacht of Mathéo Jacquemoud zijn grote fans van de Fury.

Wij hebben de Fury met Spectron3-lenzen getest en waren bijzonder enthousiast! Het spiegeleffect op de glazen is gewoon schitterend en onze twee zwarte en kaki modellen zien er prachtig uit.
Vanaf de eerste keer dat je hem in je hand neemt, ademt deze bril kwaliteit en techniciteit. Ergonomisch gezien is de bril zeer licht (25 gram) en aangenaam om te dragen. Het frame past goed op het gezicht zowel met een helm als onder een pet… en is niet bang om door elkaar geschud te worden, zelfs niet bij grote schokken tijdens het mountainbiken. De armen zijn voorzien van soft grips die zorgen voor een perfecte pasvorm en het montuur heeft een aanpasbare neusbrug voor een uitstekende grip op de neus. Zowel aan de zijkant als aan de bovenkant staat de lens niet in contact met het frame, wat voor een prima ventilatie zorgt. Nooit mist in de winter of bij nat weer.
De Fury is een succes dat veel sporters die zich willen beschermen tegen UV-stralen terwijl ze met een opvallende looks verschillende sportdisciplines beoefenen, zeker zal aanspreken.