Als onderdeel van Silhouette International heeft Evil Eye in zijn relatief korte bestaan reeds een erg mooi, compleet en verzorgd gamma voor te stellen. Silhouette met hoofdkantoor in Linz (Oostenrijk) ontwikkelt en produceert al meer dan 25 jaar uiterst functionele sportbrillen. Alle Evil Eye-sportbrillen worden geproduceerd in Oostenrijk en kunnen worden uitgerust met corrigerende glazen (die eveneens in Linz worden gemaakt), aangepast aan ieders specifieke behoeften. Silhouette International telt zo'n 1600 werknemers wereldwijd, beschikt over twee eigen fabrieken (in Oostenrijk en Tsjechië) en baat filialen uit in dertien landen.
Roadsense
De Evil Eye Roadsense past perfect in de hedendaagse trend van grote en opvallende fietsbrillen. Ja, er zijn nog grotere en nog meer opvallende modellen op de markt maar met deze Roadsense fiets je ook niet onopgemerkt voorbij. De bril heeft een moderne en sportieve look en ziet er echt heel erg mooi uit.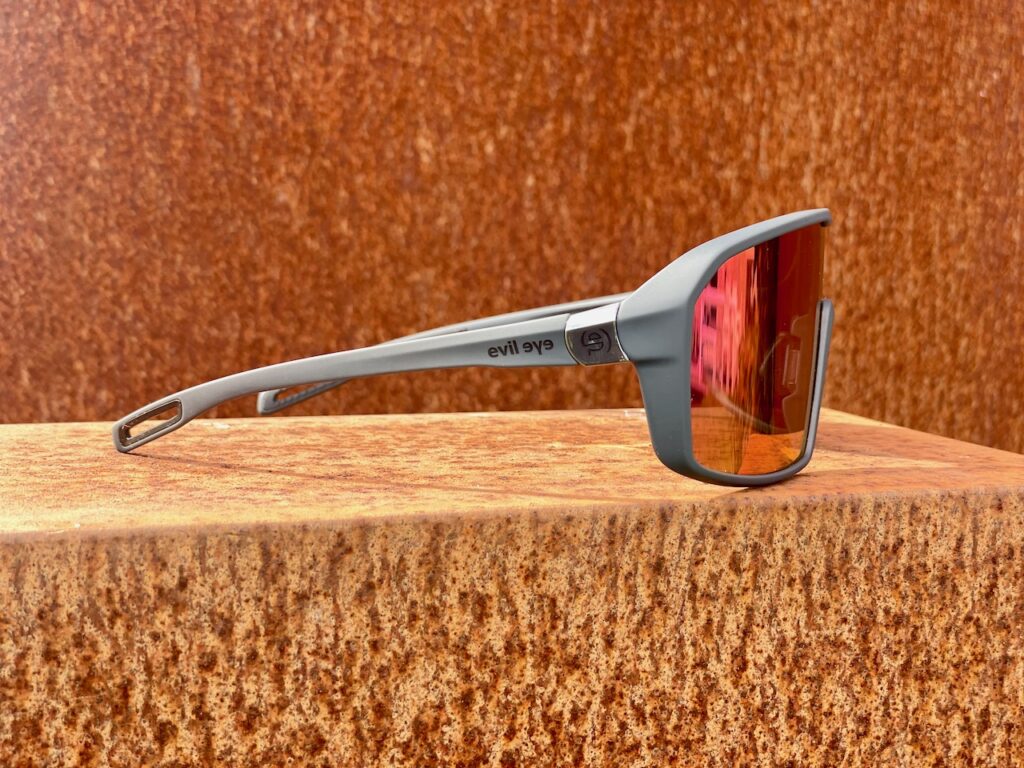 Door de vorm van de doorlopende cilindrische glazen en het volledige biedt de Roadsense prima bescherming bij weer en wind. De volledige rand schermt het gezichtsveld af zodat je minder snel afgeleid wordt, zelfs onder moeilijke weersomstandigheden.
LST Active
De Roadsense die we hier in test hebben, doet het met LST Active Red Mirror-glazen. De hoogwaardige Light Stabilizing Technology garandeert op elk moment een perfect zicht én 100% bescherming tegen UV A-, B- en C-stralen. LST® zorgt voor een scherper contrast en een nauwkeurige blik op de omgeving, waardoor je mogelijke obstakels in een oogwenk opmerkt.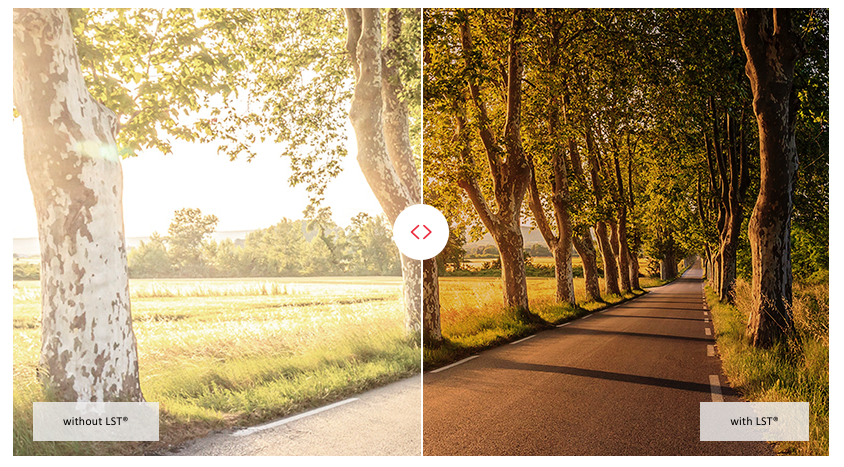 Daarnaast neutraliseert de technologie extreme schommelingen in de lichtsterkte. Op die manier raken uw ogen niet vermoeid en kan je je beter concentreren. LST® neutraliseert extreme lichtschommelingen en biedt op elk moment een uitstekend zicht. Bovendien stelt deze technologie het contrast scherper. Op die manier zijn vermoeide ogen verleden tijd en neemt het concentratievermogen toe. Al moet gezegd dat deze Roadsense zich toch eerder aan de donkere kant van het spectrum bevindt. Voor mountainbikegebruik in het bos zouden we de Roadsense niet meteen aanraden. Bij normale lichtomstandigheden of voor al je wegritten krijg je met deze LST Active Red Mirror-glazen echter een prima contrast en zichtbaarheid.
Instelbaar comfort
Het volledige frame van een robuust en flexibel PPX-materiaal zorgt voor een stevige grip en comfortabele pasvorm. De rubberen stukjes aan de uiteinde van de pootjes houden de bril eveneens stevig op zijn plaats. De pootjes zijn in drie standen in hoogte verstelbaar en de neusbrug heeft twee standen. Op die manier moet het mogelijk zijn voor op elk soort gezicht een comfortabele pasvorm te vinden.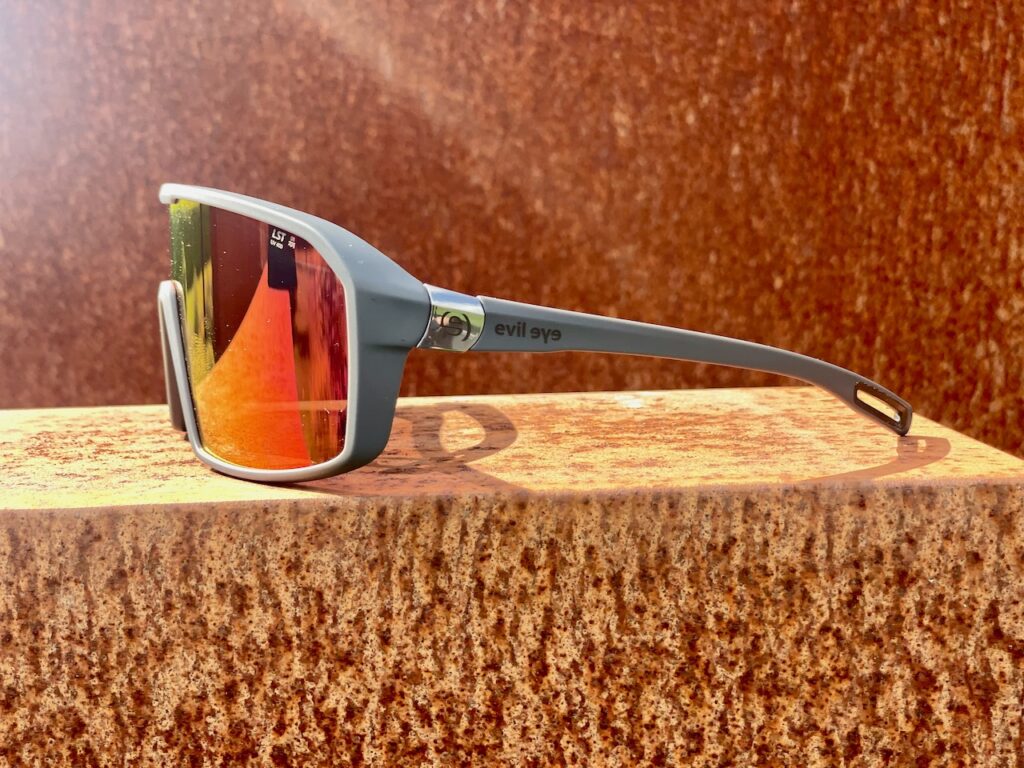 Met 34 gram is de Roadsense een beetje zwaarder dan concurrerende modellen maar dat heeft deels ook te maken met de verstevigde neusbrug en de uit de kluiten gewassen pootjes met anti-slip aan de uiteinden.
Breed gezichtsveld
De afgelopen maanden heb ik de Evil Eye Roadsense in verschillende omstandigheden gebruikt. En akkoord, het was even zoeken naar een gepaste instelling van pootjes en neusbrug maar eenmaal daarin geslaagd ontpopt de Roadsense zich tot een comfortabele bril met een erg breed gezichtsveld en een uitstekende bescherming.

Met 209 of 247 euro, afhankelijk van de gekozen lens, is deze Roadsense niet de goedkoopste bril maar je krijgt er dan ook een heel pak modieuze kwaliteit en een uitstekende bescherming voor in de plaats. En wat meer is, Evil Eye biedt reserve- en vervangonderdelen aan zodat een sportbril niet zomaar een wegwerpartikel wordt.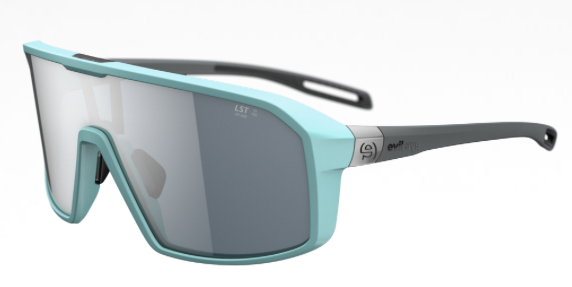 De Roadsense is er in twee verschillende maten en zes kleurcombinaties.
Meer info via www.evileye.com